Local Information
Tokyo, (東京 Tōkyō, English: /ˈtoʊkioʊ/, Japanese: [toːkʲoː] (About this soundlisten); lit. "Eastern Capital") officially Tokyo Metropolis (東京都 Tōkyō-to), is one of the 47 prefectures of Japan. It served as the Japanese capital since 1869. As of 2018, the Greater Tokyo Area ranked as the most populous metropolitan area in the world. The urban area houses the seat of the Emperor of Japan, of the Japanese government and of the National Diet. Tokyo forms part of the Kantō region on the southeastern side of Japan's main island, Honshu, and includes the Izu Islands and Ogasawara Islands.
There are many attractiongs in Tokyo, most of them are located in the city center, here, we recommend Japan's iconic Mt. Fuji to you, which is just for your reference not the final arrangement.
The Mount Fuji
Mount Fuji (富士山 Fujisan, IPA: [ɸɯꜜdʑisaɴ] ), located on Honshū, is the highest mountain in Japan at 3,776.24 m (12,389 ft), 2nd-highest peak of an island (volcanic) in Asia, and 7th-highest peak of an island in the world. It is a dormant stratovolcano that last erupted in 1707–1708. Mount Fuji lies about 100 kilometers (60 mi) south-west of Tokyo, and can be seen from there on a clear day. Mount Fuji's exceptionally symmetrical cone, which is snow-capped for about 5 months a year, is a well-known symbol of Japan and it is frequently depicted in art and photographs, as well as visited by sightseers and climbers. Mount Fuji is one of Japan's "Three Holy Mountains" (三霊山 Sanreizan) along with Mount Tate and Mount Haku. It is also a Special Place of Scenic Beauty and one of Japan's Historic Sites. It was added to the World Heritage List as a Cultural Site on June 22, 2013. According to UNESCO, Mount Fuji has "inspired artists and poets and been the object of pilgrimage for centuries". UNESCO recognizes 25 sites of cultural interest within the Mount Fuji locality. These 25 locations include the mountain and the Shinto shrine, Fujisan Hongū Sengen Taisha, as well as the Buddhist Taisekiji Head Temple founded in 1290, later immortalized by Japanese ukiyo-e artist Katsushika Hokusai.
Highlights
---Full-day trip to Mt Fuji, Lake Ashi and Mt Komagatake
---See the stunning Japanese landscape as you drive to Mt Fuji's 5th Station by deluxe coach
---Discover the cultural importance of UNESCO-listed Mt Fuji with your knowledgeable guide
---Enjoy a sightseeing cruise on beautiful Lake Ashi
---Take in stunning views over Hakone National Park from the Mt Komagatake Ropeway and stroll around the mountain's summit Hotel pickup from select hotels and locations in Tokyo.
What You Can Expect Get
Out of the city and into nature as you visit the famous Mount Fuji and its top nearby attractions like Lake Ashi and Mount Komagatake on this 11.5-hour excursion from Tokyo. Along the way you'll get a sense for amazing natural landscape in the immediate region just outside Tokyo's biggest city.
Start your tour of Mount Fuji and environs in the morning with a pickup from select hotels in Tokyo and then proceed on by air-conditioned bus for a 2.5-hour ride to Mount Fuji, heading up to a height of 7,607 feet (2,305m) above sea level on the mountain. Upon arrival at Mt Fuji, enjoy the astounding views of the entire region and an informative museum that details the ecology, meteorology, culture and history of the mountain and the nearby Fuji Five Lakes. You'll also have time during your stop to check out the second-floor observation deck, offering stunning vistas of the peak of this renowned mountain on clear days.
Continue to Mount Fuji's 5th Station, which lies about halfway up the mountain, for more incredible views. Take 30 minutes to wander the site's souvenir store and its torii gates and shrines, which help commemorate the mountain's symbolic role as a transition between heaven and earth. Stop by a local restaurant to enjoy a Japanese-style lunch.
Head next to Lake Ashi, which lies in a crater formed by a massive volcanic eruption around 3,000 years ago. Take a short 15-minute cruise of this postcard-perfect body of water, admiring views of Mount Fuji, Mount Komagatake and other peaks in the distance. Move back to the lakeshore after your cruise, where you'll continue to the Mount Komagatake Ropeway, which will whisk you to the mountain's peak. Climb ever-higher aboard this aerial tramway as you head to the summit, where you'll then have 50 minutes to wander around. Explore the beautiful views as you explore the top of the peak, including great views of Mount Fuji, the Izu Peninsula, and Izu islands, among other features.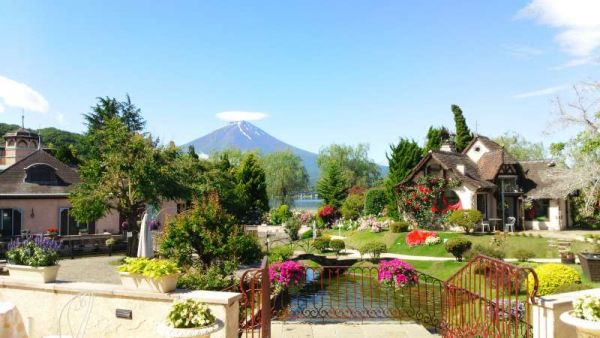 ---